Serve up simple.  Simple and delicious, that is.
If you're entertaining for Independence Day, I have a recipe to make your life a lot easier.  Skip the traditional hamburgers and hot dogs and try this menu: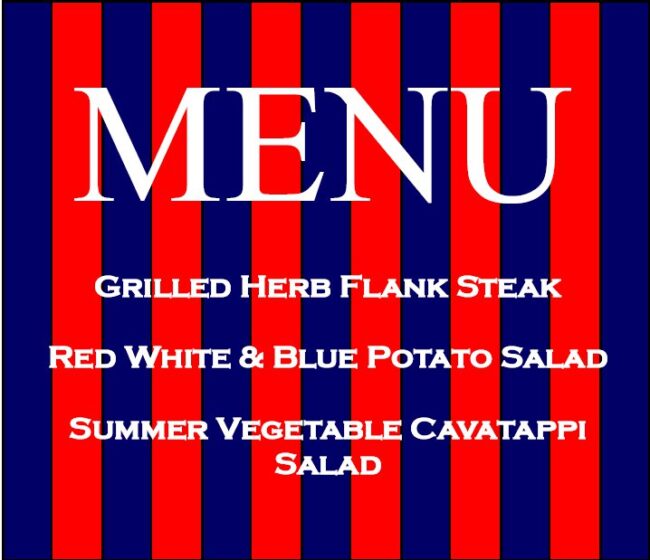 By marinating the steak a day or two in advance and making the salads which take just minutes to prepare, you're time will be free to enjoy 4th of July festivities.
What's great about this menu is that it covers all the basics- steaks, potatoes, pasta.  So, when guests ask, "what can I bring?" tell them to bring easy items like fruit or drinks.
If you're not entertaining, it's the perfect combination for just you and the family- I know- because this is what we had for dinner this past Saturday night and it was delicious….tasted like summer.
Toni's

4th

of

July

Menu
Ingredients
Flank Steak 3-4 lbs, cut into 2-inch strips against the grain
Dijon Mustard -1/2 bottle
Soy Sauce- a few shakes
Red Wine Vinegar- about 1/3 cup
Fresh or Dried Oregano & Basil
Petite Red, White & Blue (purple, actually- but close enough) Potatoes (I found the perfect ones at Trader Joe's), cleaned and quartered
Blue Cheese Crumbles- 1 small container
Sour Cream- 1 cup
Cavatappi Pasta- 1 lb
Zucchini & Squash- 1 each, diced into half-chunks
Grape Tomatoes- 1 pint
Where I got my potato salad inspiration- basically, I think making traditional potato salad is a ton of work.  You have to peel, cook and dice potatoes and eggs, dice potatoes, etc.  So, unless my mom is here to make it (she makes a great potato salad), then I want to find an easier alternative.
I was shopping in Trader Joe's and spotted these miniature potatoes and thought how perfect they would be in a salad.  I wanted to make it lighter, without mayonnaise, so I decided to try sour cream.  With some blue cheese to add to my "red, white and blue" theme, this potato salad came out better than I'd hoped.
Directions
Steak
A day or two in advance, combine mustard, soy sauce and vinegar in a bowl or casserole pan with about a half cup of olive or canola oil; mix well
Season steak with salt, pepper, basil and oregano
Dip steak into marinade and coat evenly
Place steak in zip-top baggie and pour remaining marinade in; seal tightly and place in the refrigerator on a plate or platter to marinate overnight
Potato Salad (can be made a day in advance)
Place oven on Broil
Place potato chunks onto baking sheet
Drizzle olive oil over the top and sprinkle with some salt; use your hand to toss
Broil until potatoes are brown, approximately 35 minutes
Transfer to mixing bowl
Add blue cheese and sour cream; toss
Pasta Salad (can be made a day or two in advance)
Put zucchini and squash slices next to potatoes to Broil until brown, approximately 20 minutes
Boil pasta in salted water until tender; drain and rinse under cool water
Add vegetables to pasta
Drizzle with olive oil; toss
When it's time to eat, just grill steak- or hand it off to the hubby to grill like I do.
If you're looking for a summer beverage for 4th of July party, try my Summer Sangria!
And, for the absolute most adorable place setting, check out this Patriotic Place Setting design by Social Couture.

Email this to a Friend