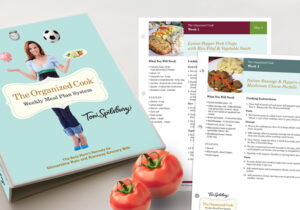 Let The Organized Cook do the planning for you to prepare delicious, balanced, healthy meals each night while saving you lots of time and money by subscribing to this valuable time and money saving system.

Do you have a Daily Deal Voucher?  Redeem your deal here for 3-Months of The Organized Cook Weekly Meal Plan System, please enter your Voucher code in the COUPON area.
Cookbooks by The Organized Cook
Shop a-la-carte and purchase an individual Weekly Meal Plan by The Organized Cook™ and solve your "what's for dinner" dilemma for one week.

The perfect holiday gift for your sister, best friend or co-worker; a one-year subscription to The Organized Cook™ Weekly Meal Plan.

Browse items exclusively by The Organized Cook™ to enhance your experience in using our Weekly Meal Plan system.

Browse busy-mom survival items exclusively by Toni Spilsbury that include our signature "Working Girl's Survival Kit" which contains a variety of items to help keep your busy day at the office on track.