My story starts and ends with saving – but the things being saved could not be more different.
For a solid decade, I helped large health insurance companies save pennies through operational optimization. But the opportunities for personal growth, satisfaction, and rewards were hard to come by, to say the least.
With one child in our family already, I gave birth to twins and later to another baby. Some medical challenges came with those blessed additions to our
family, and with the help of my wonderful husband, we started the Nevada Blind Children's Foundation, offering the state's first Braille and resource library for children, along with other vitally needed programs. It felt good to be saving other families like ours the difficulty of finding a place for their kids to learn and grow in such a supportive environment.
But the most rewarding opportunity to save something was yet to come. As our family grew, and the kids began exploring their individual worlds of activities and interests, as all families experience, I felt it was critical for us to gather at least once each day as a family and share a meal. I've been fortunate to have a knack for cooking, recipe development and preparing meals with an eye toward efficiency.
So what happened next? I developed a complete system of shopping and food preparation that not only makes it quick and easy for families to discover – and rediscover – each other over the dinner table each evening, but that actually makes doing so really economical, too. I call it The Organized Cook Meal Plan.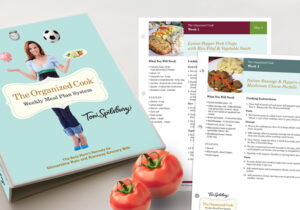 Through my meal plan system, I believe I am helping families save their own unique rhythms, their own special connections, and their own blessed beauty. My story may have begun with saving pennies, but today it continues with saving time, money and the precious lifelong treasure of the family dinner table.
Warmly Yours,
Toni