Watch this simple tutorial for three ways to cut bell peppers:


Email this to a Friend
Cooking Tip of the Week
You know that starchy pasta cooking water that gets tossed down the drain?  It may be more valuable than you realize.
By reserving a half to a full cup of the pasta cooking water, you can toss it back into the pasta before adding sauce to keep it moist and prevent the pasta from becoming tacky.  This method also helps the pasta to toss easier and adhere to the sauce.
Simply place a small bowl or measuring cup under the strainer when draining pasta, or dip a glass measuring cup into the pan before draining pasta.
Check out this simple pasta recipe using this tip:

Email this to a Friend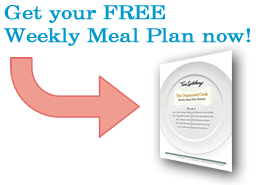 Gourmet Ads
The Organized Cook™ Weekly Meal Plan
Never worry again about what you're going to make for dinner. Cut your grocery shopping and dinner preparation time by up to 70%.
Learn More
Sign up!
Buy The Book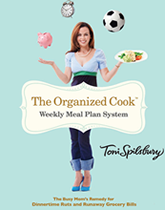 Get your copy now!
Three months of our most popular menus from The Organized Cook™ Weekly Meal Plan System including grocery shopping lists, cooking instructions and lots of time and money saving tips in one book that's easy to fit in your purse.
Start saving now! Save time and money at the grocery store and in the kitchen. Order Now.
Gourmet Ads