"All You Need Is Love" -John Lennon
What exactly are we celebrating on Valentine's Day?  Spiritual experts, artists and sages will agree that love is the universal purpose for our existence and the only thing we need to sustain us.  Lenny Kravitz is my personal guru of choice, and if he ever decides to build an ashram on his beautiful Bahama beach, I'll be the first student…. I digress.   "…'cause it's all just a game, we just want to be loved…", says Kravitz; and I agree.
Valentine's Day is a day to celebrate love, and here are four ways I show that love to the people I love most.
4 Tips For Showing Your Family Love on Valentine's Day
Tip #1- Decorate
After the mad rush of decorating for Thanksgiving and Christmas, I'm always so relieved to have my house "back" in January.  And just as I begin the new year feeling organized with decorations neatly packed away in the garage, February arrives with it's question of, "Whatcha gonna do?"  The truth is, the last thing I want to do is decorate for another holiday.
Then I remind myself of how short a window of time with my kids this is.  When I look at the time span of my entire life, I realize these precious few years when the kids are no longer babies, and too young to kick mom and dad to the curb on Valentine's Day for school dances and dates.  I want to make this time memorable, especially on a day when love is celebrated.  As Life Management Expert, Kimberly Friedmutter, explains, "your personal surroundings should be a true sanctuary for your family and a reflection of you."  "Your home creates an emotional response to each person who enters", says Kimberly," so the question is what you want that emotional response to be."
For Valentine's Day and every day, I want my home to evoke and project love.  I quickly realize that it's not too time-consuming or expensive to bring some Valentine cheer to Casa Spilsbury.  A trip to HomeGoods, Michaels or Target can give some inspiration and bring home the love for less than $50.
Simple hanging hearts welcome guests and family at the front door with an entry table full of roses and vintage Valentine's decor.
The Smell of Love
Scents also elicit an emotional response from family and guests, so filling your home with "pink" auromas add to your loving Valentine's Day decor.  My Scentsy warmer gives off sugary smells like "Love Story", "Garden of Love", "Lucky in Love, "Linger" and "Quiver".  If you don't have a Scentsy candle warmer, you're missing out on filling your home with scents to match the seasons and holidays by simply changing out the wax.  If you don't know what "Lucky in Love" smells like, you'll be delightfully surprised to discover how much the smell matches the name.  I just can't wait to smell "Quiver".
For a more naturally seductive smell, I love these hand-crafted Aromatherapy Essential Oils from Shangri-Las Vegas.  Each scent is made by hand with organic oils and natural flowers and herbs.  Scents like sandlewood, lavender and rose create a lovely aroma.  I simply choose my oil and place in this warmer and within minutes my house is filled with a wonderful fragrant aura.  There are many diffusers and oils to choose from on Shangri-Las Vegas.
Tip #2- Cook
Recently I watched an episode of Long Island Medium.  It was entertaining to watch this gifted lady with her Long Island accent and big hair touch people with her messages from the other side.  In this particular episode, I couldn't help but notice another story playing out as her family talked about how she never cooks for them.  It's obvious she's a great mom who loves her family.  So why does her daughter appear almost hurt as she says, "I can't remember the last time my mom cooked me a meal..".
People say that the quickest way to a man's heart is through his stomach- maybe this saying is true for everyone.  Oprah calls it her "Love Sandwich" as she describes a special treat she whips up for her man.  I know that cooking for my family every day is one of the ways I show my love for them.  Cooking is a big deal in my home and my girls love to jump in and help.  Cassidy recently created her first recipe, starting at the grocery store as she picked out Portabella mushrooms, fresh green beans and shrimp to saute and toss with brown rice.  And my Brooke loves making her "special salad" as an appetizer.
For Valentine's Day I make a heart-shaped turkey meatloaf.  I know it sounds corny, but they love it.
Last year we made some Man-Catchin Beignets inspired by Disney's Princess and the Frog movie.
Tip #3- Help Them Show The Love
Kids have people in their lives who are special to them as well, from teachers and coaches to friends, and they're so proud of the treats we send them.  My hope is that all those years of baking Valentine's cupcakes and placing them in specially decorated boxes for school will be something my oldest daughter thinks about each year of her adult life.
Taking the time out to help my kids show love for people in their life, like "BFF's" is another way I show my love for them.  Whether it's a homemade treat like my Heart-Healthy Granola, or simple homemade cards, my home becomes "Valentine's Central" every February 13th.  Last year, the kids and I made "I Heart Home Granola" and packaged it for heart-healthy Valentine's gifts.
There are tons of free online printables to help make your kids Valentine's Day treats fun.  This year, my favorite printables are from Tatertots and Jello: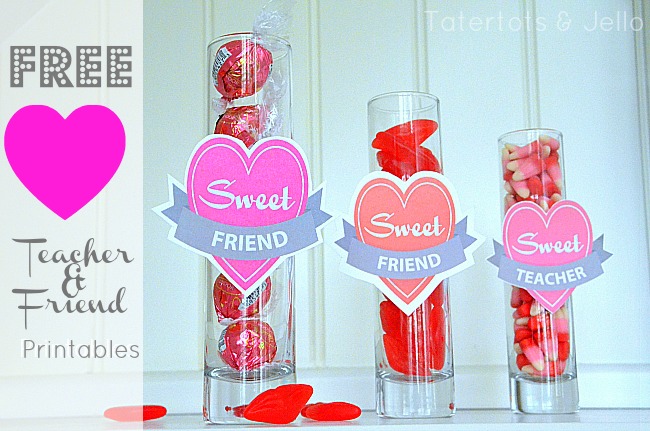 Tip #4- Make It From The Heart
Christmas was just 50 days ago, so there's no need to go all out with gifts for the kids on Valentine's Day.  Sometimes a simple homemade gesture can beat any store-bought card.  I like to incorporate photos of Valentine's Days past in my cards.  "With a little glitter and glue, you can make magic." – me… just now.
If your "glitter and glue" skills aren't up to par, using online printable cards is another option.  There are also lots of free online printables that make adorable Valentine's Day cards.   Here's my favorite this year from Living Locurto:
For More Valentine Fun
For more Valentine treats and ideas, check out some of our tutorial and recipes here from Toni Spilsbury:

Email this to a Friend